Knowledgebase
Activate Lowest FP Setting
Posted by Dan F (Import) on 15 November 2007 03:47 AM
Warning:
The Lowest FP Setting can be used to decrease the False Rejection Rate (FRR) of the ACTAtek when used with ID Match. This special setting is not enabled by default because its use may also increase the False Acceptance Rate (FAR). To offset the possible increase in FAR, this setting is set per user and requires the user to input their User ID before placing their finger (ID Match). To mitigate the possible decreases in security, this setting should only be applied in the very rare cases where it may be necessary.



Description:
The process detailed in this article will enable the special Lowest FP Setting. After this setting is enabled, it may be applied to individual users.
Instructions:
The following are instructions for using the Lowest FP Setting:
Log into the ACTAtek's web interface of the Primary unit as a Super Administrator
Type the following into the address/location bar of your web browser (replacing the "<actatek-ip>" with the IP address of you primary unit): http://<actatek-ip>/cgi-bin/enableLowestFPLevel.cgi

On Fingerprint Security Level Setting page, select the "Enable" option and click the "Modify" button

Note: Enabling this setting will NOT automatically apply the "Lowest" option to any users!
Your browser should automatically redirect to the Main Admin screen. When loaded, click on the "View User List" link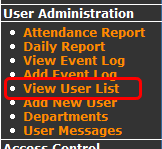 Click on the User ID number of the user for whom you would like to apply the "Lowest" setting
In the User Profile page find the "Fingerprint Security Level" and change it to "Lowest"

Click the "Modify" button at the bottom of the page
Using ID Match
For users where the Automatch setting is not enabled, ID Match is used. To authenticate using ID Match do the following:
Enter the User ID on the numeric pad
Place the enrolled finger on the scanner
Note: Be sure NOT to press the Enter button after entering the User ID


---